Avasha AG. (AVASHA)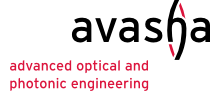 Avasha AG (Avasha AG) is dedicated to the design, development and manufacturing of optical systems and related technologies. The main areas of activity are optical design for imaging and illumination, industrial design, project management and consulting, manufacturing of prototype or small series of optical assemblies, as well as sourcing of custom mechanical and optical components.
Avasha AG is capable of understanding and solving advanced problems in optics and adjacent fields such as mechanics and electronics.
Its customer base includes innovative small companies and global leaders, both from Switzerland, Europe and emerging markets. So far, customer applications have been in industrial, medical, defense, automotive and consumer electronics areas.
Website