BW TEK Inc. (BWTEK)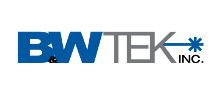 Since B&W Tek's establishment in 1997, we've grown into an industry-leading, total solutions provider coupling our core technologies with custom design and manufacturing capabilities. We are an advanced instrumentation company producing optical spectroscopy and laser instrumentation, as well as laboratory, portable and handheld Raman spectrometer systems. Since our inception, we've been providing Raman spectroscopy, modular spectrometer and laser solutions for the pharmaceutical, biomedical, physical, chemical, LED lighting and research communities.
With an extensive variety of products and accessories, we're able to take an assortment of ready-to-use, off-theshelf modular components and combine them to form your complete spectroscopy solution. Countless applications can be performed by combining any variety of our lasers, spectrometers, sampling accessories, and software packages – all which are designed and built by our own staff. This commitment to vertical integration has made B&W Tek an industry leading OEM/OED provider of laser, Raman and NIR systems.
B&W Tek is the worldwide leader in Raman spectrometer manufacturing with over 10,000 spectroscopy solutions delivered. Our complete line of high performance laboratory, portable and handheld Raman spectrometers sets us apart with solutions for the classroom to the research lab to the loading dock. Our extensive knowledge and cutting edge technology in the field of Raman spectroscopy has allowed us to focus on solution-oriented products that are designed for non-specialists and provide easy, rapid measurements in a matter of minutes.
B&W Tek boasts one of the most comprehensive lines of UV, Vis and NIR spectrometer modules on the market. Combined with our wide selection of spectroscopy accessories, B&W Tek offers you nearly limitless utility. Some of the most common applications of modular spectroscopy include reflectance, absorption, transmission and emission. All of our UV, Vis, and NIR spectrometers can also be configured to measure absolute irradiance, making them ideal for LED and solar applications. We also boast the smallest TE Cooled linear CCD array spectrometer on the market, ideal for your applications that require low light level detection and long integration, such as Raman and fluorescence.
B&W Tek also features a unique array of NIR and broadband fiber coupled spectrophotometers offering spectral coverage from as low as 350nm to as high as 2550nm. By coupling these visible and NIR spectrophotometers with various sampling accessories, they can be configured for a variety of applications such as transmission, reflected color and NIR vibrational spectroscopy.
Website